Description
This new condo project situated in Etobicoke's Long Branch community is minutes from Humber College Lakeshore Campus, making it a golden investment opportunity.
220 Lake Promenade Condos is a new high-rise condominium development in Etobicoke. These five residential pre-construction condos are ranging from 12 to 30-storeys with a total of 1,444 deluxe units, located near Kipling Avenue and Lake Shore Boulevard West in the Long Branch neighbourhood.
Enjoy the lifestyle you have always dreamed of steps away from Lake Ontario and a plethora of parks and open spaces.
220 Lake Promenade Condos will will rejuvenate the neighbourhood as well as enhance its parks and open space, all while respecting the established character of the neighbourhood. There will be a total of 2,021 premium units, of which 577 will be rental units and 1,444 will be contemporary condo suites.
Building A will be an 'L'-shaped 14-storey condo that will front the upcoming park, giving residents stunning natural views. It will consist of two 14-storey towers atop a 6-storey podium. There will be 363 units divided into 1 studio, 277 one-bedrooms, 48 two-bedrooms, and 37 three-bedroom units.
The ground floor will have two grand lobbies, while the second and seventh floors will house 7,815 square feet of high-quality indoor amenity space. Furthermore, the seventh floor will have an additional 7,825 square feet of outdoor space.
A total of 559 parking spaces consisting of 502 residential spaces and 57 visitor spaces will be provided in a 2-level underground parking garage to be shared among the residents or Buildings A and E. Building A's residents will also have access to 281 bicycle parking spaces, of which 255 will be long-term spaces for residents and 26 will be short-term spaces for visitors.
Both Building B and Building C will be 'L'-shaped 12-storey rental buildings.
Building F will also be an 'L'-shaped 12-storey building, however, it will be a condominium with 316 suites and a unit mix of 10 studios, 234 one-bedrooms, 39 two-bedrooms, and 33 three-bedrooms. This building will have two 12-storey towers and a 6-storey podium.
Two lobbies at the northwest and southwest sides of the condo will welcome residents and visitors alike. A total of 13,649 square feet of amenity space will be available in the form of 6,835 square feet of indoor space on the ground, third, fifth, sixth, and seventh floors, and 6,814 square feet of outdoor amenity space provided on the seventh floor.
There will also be 308 bicycle parking spaces in Building F, consisting of 286 long-term spaces for residents and 22 short-term spaces for visitors. This building will share 564 parking spaces with Building C contained in a 2-level underground parking garage.
Building E will be a 30-storey condo building with two 30-storey towers sitting on a shared 6-storey podium. It will contain 779 units, including 1 studio, 585 one-bedrooms, 113 two-bedrooms, and 80 three-bedrooms. Residents will have access to two elegant lobbies at grade and 33,637 square feet of state-of-the-art amenities. A total of 16,878 square feet of indoor space will be situated on the second and seventh floors, while 16,759 square feet of lush outdoor space will be provided at grade and on the seventh storey.
Furthermore, Building E will have 511 bicycle parking spaces divided into 455 long-term residential spots and 56 short-term visitor spots.
Moreover, this development will introduce two new public parks and plenty of privately owned public space. A 29,009 square feet park will be located at the northwest corner of the site and will act as an expansion of the existing Long Branch Cenotaph park. Another park of 25,155 square feet will be situated along the west side of the site and connect Long Branch Park to the south side of Lake Promenade.
220 Lake Promenade Condo project is located in Long Branch, one of Etobicoke's hottest neighbourhoods. Long Branch is a lively hub full of amenities and conveniences that is perfect for professionals and families alike.
The area has a beautiful waterfront and a wide variety of gorgeous parks. Residents will be steps away from the shore of Lake Ontario, Long Branch Park and Len Ford Park. Other local parks include Birch Park, Thirty-Eighth Street Park, and Marie Curtis Park. These parks are known for their lush greenery, wildlife, and breathtaking views of the lake.
One of Long Branch's star attractions, Colonel Samuel Smith Park, is a short walk away. This massive wooded park draws in many bird watchers and hikers each year and is home to an off-leash zone and an ice-skating area.
Residents will have plenty of entertainment at their fingertips. For outdoor enthusiasts, there is Toronto Golf Club, Lakeview Golf Course, and Lakeshore Yacht Club. Shopaholics will love that CF Sherway Gardens mall and Dixie Outlet Mall are about ten minutes away. Long Branch Arena and Toronto Public Library's Long Branch location are also nearby.
Schedule a tour
Your information
Similar Listings
Pre construction
Coming Soon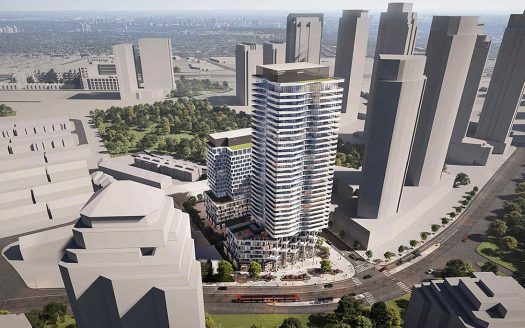 Pre construction
Coming Soon
Exclusive Listings
Coming Soon
Featured
Pre construction
Coming Soon
For Sale