Description
A veritable castle in the sky is waiting for you at this upmarket residence that caters to the best in modern urban lifestyles.
25 Mabelle Avenue Condos is a pre-construction luxury condominium development located by Cordova Avenue and near the intersection of Islington Avenue and Bloor Street West in the islington-City Centre West neighbourhood of Etobicoke.
Live among the clouds at one of Toronto's highest buildings where breaktaking views are a daily ritual. Soak in a luxurious atmosphere where fine design and sumptuous opulence are incorporated into every nook and corner. Enjoy the convenience of nearby services as well as instant access to the city's world-class transit system.
Choose a palatial residence that befits a king. Make your home at 25 Mabelle Avenue, and make this real estate investment your key to enjoying life in royal fashion.
This pre-construction condominium is planned to stand 175.5 meters (576 feet) tall, instantly making it one of the city's tallest buildings upon completion. The condo will contain a total of 606 suites over its 55 storeys, none of which are planned as studio apartments.
This mixed-use development will contain a total gross floor area of 39,775 square meters (including interior walls) of which 817 square meters will be allocated for commercial use. There will be room for 350 parking spaces in the condo's underground parking area where some 466 bicycle spaces can also be found.
In having this area rezoned by the city, the developer looks to supplant the currently-standing apartment high-rise at this address with a luxury development that aims to reinvigorate this area with elegance and class. And, with a planned facade dressed up with randomized black and white panels intermixed with window-wall vision glass. The developer appears to fulfill their vision with more than enough style left over.
Although concrete details for this development have not yet been released, one tantalizing feature of this new condo suggests that future residents may be able to reach the nearby Islington Subway Station through a new (and, as yet, unannounced) underground tunnel below adjacent GO train tracks that will provide direct station access.
Although all this talk of tunneling may suggest a diamond in the rough, the widespread convenience of this location shows this location to already be a great place to live.
Islington-City Centre West is a serene western suburb of Toronto served by all the services and shops befitting a bustling cosmopolitan city. With public transportation just moments away and easy access to many nearby stores and restaurants, this neighbourhood provides all the practical answers required for the fast-paced lifestyles of today's urbanite.
In this area, residents can find such familiar amenities such as supermarkets, banks, groceries, bars, pubs, restaurants, coffee shops, drug stores, and beer stores. What's more, the Kingsway Theatre is just an 18 minute walk away while a 10 minute drive will get you to such big brand stores like Ikea Etobicoke, Costco and Home Depot
Parklands are never in short supply in Islington-City Centre West where local green space includes parks such as Hummer River Park, Kenway Park, and Michael Power Park. As well, this condo enjoys a major advantage with its adjacent location to Tom Riley Park, a forested 14.8 hectare park that comes complete with winding pathways that snugly follow a lazy creek in addition to facilities like a multi-purpose sports field, tennis courts, children's playground, and a baseball diamond with stadium-quality overhead lights
Schedule a tour
Your information
Similar Listings
Pre construction
Coming Soon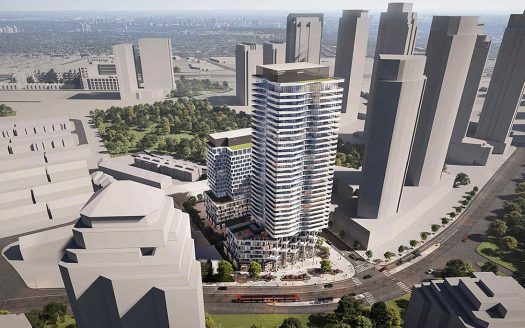 Pre construction
Coming Soon
Exclusive Listings
Coming Soon
Featured
Pre construction
Coming Soon
For Sale