Description
This new condo development will offer a range of housing styles to make this community a suitable place to live for young professionals and growing families.
26 Earlington Avenue Condos is a new 10-storey residential condominium by Dunpar Homes in Etobicoke.
This pre-construction project is located at 26 Earlington Ave between Royal York Road and Dundas Street West in The Kingsway neighbourhood. This condo will also feature four back-to-back townhomes.
This mid-rise development is expected to hold 134 residential units that will range from one to three bedrooms. We can expect these suites to vary between 514 to 1,304 square-feet.
This mid-rise development will offer state-of-the-art amenities and residential suites that will feature many layouts and sizes. These units will be divided between 33 – one-bedroom units, 83 – two-bedroom units, 17 – two-bedroom plus den and 1 – three-bedroom plus den.
These suites will roughly range in size from 514 to 1,304 square-feet to accommodate anyone from young couples to larger families. A private balcony or terrace will be available in every unit. For those looking for more space, this complex also offers a set of 4 back-to-back townhomes found on the southern corner of this complex.
26 Earlington Avenue Condos will also include plenty of parking space with 190 long-term spaces designated for residents and 28 visitor parking spaces.
There will also be 101 bicycle spaces available. Investors can also expect over 5,700 square-feet of indoor and outdoor amenity space. These amenities can be found on the ground floor and the tenth level. We can expect these amenities to include a fitness centre with a yoga studio, a lounge and dining area and a rooftop terrace on the top floor.
This mid-rise development will ascend on a 45-degree angular plane and will feature a contemporary architectural design. This condominium will be made up of neutral tones with a mix of limestone and brick cladding. The balconies will be framed with black railings while the development will be surrounded by large, floor-to-ceiling windows to bring in the most natural light. This project will feature a unique, contemporary exterior and we can only expect the interior to display the same design elements. Register today to receive the most up-to-date information about this project as soon as it becomes available.
26 Earlington Avenue Condos will sit in The Kingsway neighbourhood of Etobicoke, by the Humber River. What makes this area so ideal is it's close proximity to Downtown Toronto and the waterfront. Additionally, this area is surrounded by many residential developments, local amenities and natural reserves. There are many parks nearby including James Gardens, King's Mill Park, Eglinton Flats, Lambton Golf & Country Club and High Park, a 400-acre natural park that offers lush gardens, walking trails, recreational facilities and a public zoo.
This is an ideal location since its surrounded by many unique restaurants, cafes, bakeries, bars and supermarkets. Residents will also be able to find many boutique shops nearby as well as banks, pharmacies and fitness centres. For families, there are many schools within walking distance including Lambton Kingsway Junior Middle School, Warren Park Junior Public School, Kingsway College School, Saint James Catholic School, Prince Edward Montessori School and Etobicoke Collegiate Institute. Additionally, Humber College is just 20 minutes away from this development. Toronto Pearson International Airport is also a 20 minute drive away from this condominium site.
Schedule a tour
Your information
Similar Listings
Pre construction
Coming Soon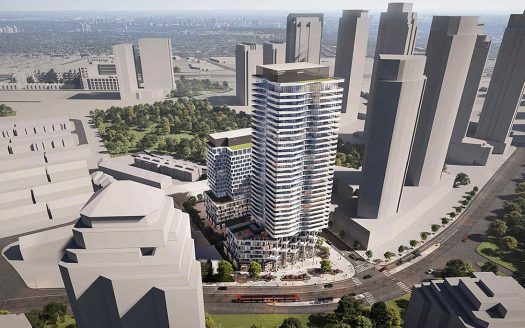 Pre construction
Coming Soon
Exclusive Listings
Coming Soon
Featured
Pre construction
Coming Soon
For Sale