Description
321 Davenport Condos is a 9-storey boutique condominium by Alterra in Toronto. This pre-construction development is located at 321 Davenport Rd in Annex neighbourhood . This luxury condo project has an occupancy date of 2023.
The developer has proposed two-bedroom and three-bedroom units with layout sizes ranging in size from 1,388 sq.ft to 3,620 sq.ft, each designed as an expansive penthouse that reflects the elegance of neighbourhood surroundings. Created with the most discerning style enthusiasts in mind, this glazed glass condo is set to push the limits of luxury, its dramatic shape becoming a true beacon of modern opulence within the Annex neighbourhood.
321 Davenport Condos will feature 32 parking spaces and almost 600 square feet of indoor amenities, in the form of a state-of-the-art fitness-centre and catering kitchen.
The building, which will be designed by luxury architecture firm, Giannone Petricone Associates, will feature recessed balconies on the third to sixth floors overlooking Davenport, with east-facing balconies projecting outwards. The building's rooftop will contain private terraces for units on the eighth floor. The lobby will be on the ground floor, accessed directly from Davenport.
If you're looking to live in "creme de la creme" luxury in something established and high-end, this part of the Annex is a great option. While we're not seeing the hyper-intensification and abundance of sleek high-rises that we do in other neighbourhoods closer to downtown, we're definitely seeing a number of high-end boutique buildings popping up in the area, transforming underutilized sites.
The finishes at 321 Davenport condominium will be with Cameo kitchens all standard finishes of the nicest and high end material out there.
Parking will be included for all units and as prestige buyer you will have lots of customization options including custom kitchens working with Cameo and Miele.
The appliances will be touch appliances which open on their own, induction cook top, Enamel cast iron sink and champagne gold hardware, 10 FT ceilings, 8 inch wide plank flooring union 31 designer (U/31), parking elevator system, 2 residential elevators.
Top 5 Reasons to Live at 321 Davenport Condos :
1. Popular Location – 321 Davenport Condos is located within Toronto's popular Annex community, a downtown neighbourhood known for its huge tree-lined streets and massive early 1900 Victorian Era homes. It is one of the oldest neighbourhoods and is a laid-back area of the city, full of independent and local eateries, cafes, and boutique shops.
2. Yorkville – Toronto's world-renowned Yorkville neighbourhood is located just minutes away from 321 Davenport Condos. Yorkville is Canada's most exclusive shopping district, home to some of the most upscale retailers, boutiques, businesses, restaurants, and cafes.
3. Arts and Culture – The Annex is home to many arts and culture venues. Residents of 321 Davenport Condos can enjoy nearby attractions such as Lee's Palace, Ted Rogers Cinema, Tarragon Theatre, Casa Loma, and the Royal Ontario Museum.
4. Lifestyle Amenities – With an amazing Walk Score, 321 Davenport Condos is located near plenty of lifestyle amenities. Within walking distance residents have access to dining, shopping, and entertainment options located on nearby Dupont Street, Avenue Road, and Bloor Street West.
5. Transit – With an almost perfect Transit Score, residents of 321 Davenport Condos can leave the vehicle behind and commute throughout the city using transit. TTC bus services are available just steps from the front door and several subway stations are within walking distance, including St. George Station, which offers trains departing in all 4 directions.
Zoned as a "mixed-use" part of the city, you're just as likely to find leafy parks and ravines as you are trendy restaurants and bars, many of which are just a few minutes from this building. It's also just west of Designer's Walk, a renowned stretch famous for its Victorian buildings that house some of the city's most luxurious design showrooms.
Technically still considered a "downtown" area on the city of Toronto's urban plan, the area is definitely expected to see transformation, while likely remaining true to its roots. It's a chic and leafy enclave that is popular with professional couples and will likely to continue to attract a robust population. Since the area is only starting to see these kinds of developments, we're expecting contemporary boutique buildings like this to be in high demand.
it scores a 89 on its Walk Score and a perfect 92 on its Transit Score. Both George Brown College and the University of Toronto are within walking distance, as is St. George Station, which provides subway access in all four directions.
Other Features
24 Hour Concierge
Co-Working Space
Coffee Bar
Conference Room
Fitness Studio
Pet Spa
Sauna
Social Club
Swimming Pool
Schedule a tour
Your information
Similar Listings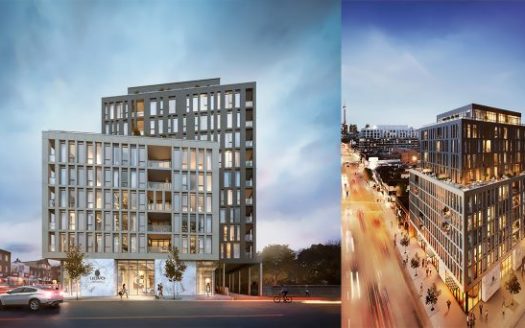 Exclusive Listings
Coming Soon
Pre construction
Coming Soon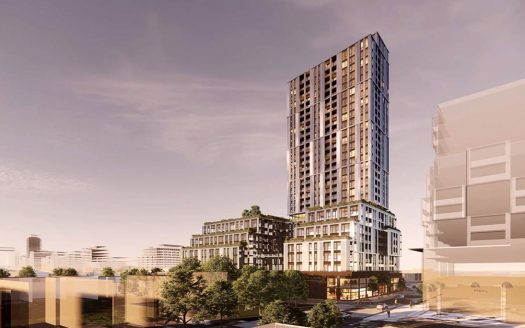 Pre construction
Coming Soon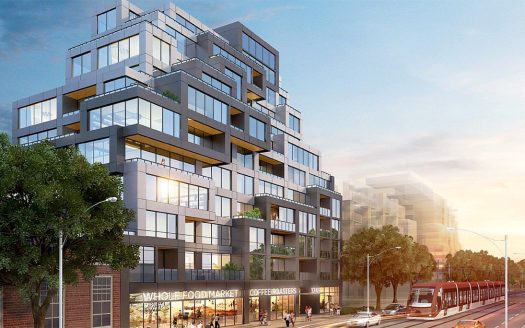 Pre construction
Coming Soon