Description
This new condo project is a glamorous new luxury residence that impresses with its premium location next to the highway, making it ideal for drivers. 361 The West Mall is a three-tower condominium development in Etobicoke.
This new pre-construction project is located at 361 The West Mall at Eva Road, situated just east of Highway 427 and north of Bloor Street West in the Etobicoke community of Eatonville.
This infill development will add three new condo towers to a site , creating much-needed residential intensification for a family-friendly area full of municipal facilities like parks and schools.
As well, considering the area's proliferation of nearby roadways and expressways, this development especially caters to drivers and commuters that work in nearby Mississauga. Resplendent and practical, 361 The West Mall makes for a great investment opportunity.
As the epitome of contemporary urban living, this development offers a whole host of living spaces for the discriminating client.
The new twin towers located to the west and southwest corner of the site will both rise to a height of 14 storeys and share a six-storey podium; meanwhile, the third new condo tower will be 19 storeys high and be situated in the northeast corner.
In keeping with the placement of the two existing towers, the three new towers will be arranged around the central one-level ground floor parking garage. On top of this garage is a grass roof that will converted into a new communal outdoor amenity space offered for the use of all local residents in much the same way as the development's other new amenity spaces.
Initially offering 83 one-bedroom units and 63 two-bedroom units with its first phase, the site will ultimately contain 214 one-bedroom units and 255 two-bedroom units upon completion of phase three.
When finally finished, this development will contain 1,752 square metres of indoor amenities and 1,112 square metres of outdoor amenities. As well, the development will construct 571 new vehicle parking spaces and 428 bicycle parking spaces spread out over two three-level underground garages and a single five-level underground garage.
With more details to come on this exciting new real estate prospect, be sure to register with GTA-Homes today in order to receive updates as soon as they happen.
As the central core and seat of power for the former city of Etobicoke, Eatonville is a neighbourhood that enjoys a number of local services and amenities that have made it a popular community for families.
This development is located just down the street from the Etobicoke Civic Centre in addition to the West Mall Outdoor Pool and the West Mall Outdoor Rink. Not only that, the condo complex is located within a ten-minute walk of two public schools as well as a number of parks.
Local amenities found in the neighbourhood 15 minutes away by foot include a pharmacy, a bank, a branch of the LCBO, and many restaurants. Meanwhile, Cloverdale Mall is located a further distance away and contains such retail offerings as a post office, Metro, and Winners while a Food Basics is situated across the street. As well, Sherway Gardens can be found further off to the south.
Etobicoke's central core also proves to be convenient when it comes to local transportation options.
Schedule a tour
Your information
Similar Listings
Pre construction
Coming Soon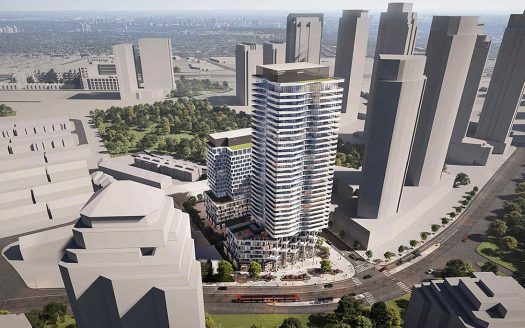 Pre construction
Coming Soon
Exclusive Listings
Coming Soon
Featured
Pre construction
Coming Soon
For Sale