Description
Enjoy all the benefits of a newly-improved west-end Toronto neighbourhood. Move into a brand-new residence located next to what is set to be Etobicoke's new city centre.
4 Beamish Drive Condos is a new residential development in Etobicoke. This pre-construction project is located at 4 Beamish Drive in Islington–City Centre West. The major intersection is Kipling Avenue and Bloor Street West.
This development is located right beside an area that will undergo massive improvements. Most significantly, Six Points will host a new regional transportation hub. It will be located steps away from the development. This will make commuting especially easy for local residents.
4 Beamish Drive Condos will stand 35 storeys high and have a five-storey podium at its base.
It will contain 329 living units arranged in the following configuration:
120 one-bedroom units
91 one-bedroom + den units
76 two-bedroom units
7 two-bedroom + den units
35 three-bedroom units
The suites will be offered in the following sizes:
One-bedroom and one-bedroom + den units: 158–230 square metres. Average size: 194 square metres
Two-bedroom and two-bedroom + den units: 231–382 square metres. Average size: 307 square metres
Three-bedroom units: 280–402 square metres. Average size: 341 square metres
Four of these units will be "townhome-style" units on the ground floor. These two-storeys homes will feature private entrances that open onto Beamish Drive.
4 Beamish Drive Condos will feature 669 square metres of indoor amenities. Another 667 square metres of amenities can be found outside. These will be located on the ground and fifth floor. The ground floor will also feature 398 square metres of landscaping.
The development will be served by a four-level underground garage. The garage will contain 171 vehicle parking stalls:
137 spaces for residents
33 spaces for visitors
The building will also provide space for 252 bicycle parking spots:
224 for long-term
28 for short-term
Six Points is an important part of Etobicoke. It is undergoing many fundamental changes. Formerly a place that favours cars, this area will now put its focus towards its locals.
It has been completely reconfigured to improve walkability. It has eliminated its bridges and ramps, turning the area into a single, accessible area. It will add parks and new developments as well as bike paths and enlarged sidewalks.
It will also see the introduction of the Kipling Mobility Hub. This station will consolidate many of west Toronto's train, subway, and bus routes. It will be comprised of a new bus terminal as well as new tunnels and skyways.
Set to open Spring 2020, this new transit hub will be located very close to this development. The current Kipling GO Station is located 8 minutes away by foot, while the Kipling TTC Station is 10 minutes away.
Schedule a tour
Your information
Similar Listings
Pre construction
Coming Soon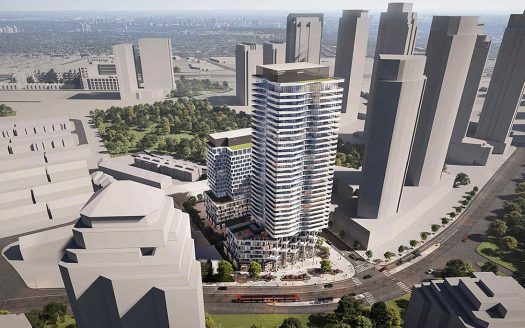 Pre construction
Coming Soon
Exclusive Listings
Coming Soon
Featured
Pre construction
Coming Soon
For Sale