Description
Designed as a striking, 41-storey tower overlooking Mimico Creek and the shores of Lake Ontario, this is one of the last sites available for development in the trendy Lake Shore and Park Lawn pocket. 42 Park Lawn Road is a pre-construction condominium development in Etobicoke's Humber Bay neighbourhood.
Located in a growing and picturesque part of the city, this condominium is conveniently located near flawless natural resources, as well as shopping and transit options. To accommodate the growth here, the city has recently begun plans for a brand-new GO station in the immediate area as well.
Be sure to register with us for the most recent details on this project as they become available.
Sitting on the east side of Park Lawn, just north of Lake Shore Boulevard, this project will consist of a 41-storey tower and a two-storey base housing commercial space.
Featuring a sleek, sculpted design, it's expected to house a total of 321 units, including 120 one-bedroom and 201 two-bedroom suites, with a range of layouts. Private balconies in each unit will provide spectacular views of Humber Bay Park and the tranquil shores of Lake Ontario.
Both indoor and outdoor amenity space will be included, divided between the ground and second floors. Condo amenities in this neighbourhood tend to be upscale, often featuring lavish outdoor pools and landscaped terraces, sophisticated entertaining facilities and gyms equipped with whirlpools and saunas.
Residents will have access to 358 parking spaces in an underground garage, along with a growing collection of shops and services that are beginning to populate this urban pocket.
Elegant and inspired, this is waterfront living at its finest.
New condos in Humber Bay are some of the most scenic and elegant buildings in Etobicoke, so it's no surprise that they're also some of the most in-demand.
The number of contemporary buildings being built here has turned it into a community unto itself, while retail, dining and lifestyle options continue to grow as the needs of these new homeowners shift.
Positioned right on the shores of Lake Ontario, the area provides seamless access to the lush Humber Bay Park East, yacht clubs, and a biking and pedestrian trail that connects the waterfront to downtown Toronto. It's easily one of the city's best locations to spend the day relaxing on the beach or catching a spectacular sunrise.
Schedule a tour
Your information
Similar Listings
Pre construction
Coming Soon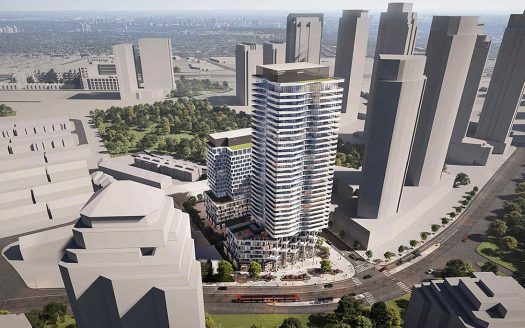 Pre construction
Coming Soon
Exclusive Listings
Coming Soon
Featured
Pre construction
Coming Soon
For Sale