Description
A triad of luxurious towers offering the finest in modern living, surrounded by 400 acres of what is arguably one of the GTA's most talked-about urban revitalization.
7centraL Condos is a new mixed-use high-rise condominium by Graywood Developments and Phantom Developments in Vaughan. This pre-construction project consists of three high-rises, reaching 55, 55 and 56 storeys. Over 2,000 condo units available from one to three-bedroom suites.
Setting the standard for luxury living in the city's new downtown core, Experience Vaughan from one of the city's highest vantage points.
7centraL Condos is coming to enliven the neighbourhood with the addition of a 70,987 square-foot, 12-storey office building. The towers will all be intricately designed with sleek shapes and glistening facades giving them a stylish signature that will be immediately recognizable on the Vaughan skyline.
From the ground floor, residents can access grand lobbies with concierge service and more. This dynamic development will contain over 32,900 square feet of indoor amenity space spread across the three condo towers. Throughout the development, we can expect to find a roster of fitness and lifestyle amenities including a state-of-the-art fitness centre, pool and sauna area, yoga studios, and five-star entertainment spaces.
As for outdoor amenities, the development will offer over 19,100 square feet of amenity space to be enjoyed by all ages. These amenities can include a rooftop sky lounge, with glamorous, panoramic views of the city; and a landscaped terrace.
Not to mention, the proposal includes a four-level garage with 1,079 parking spaces and 1,021 bicycle parking spaces.
We can expect suites at 7centraL Condos to feature a selection of contemporary designs that make efficient use of space and take luxury, hotel-inspired living to the next level. The views here will be second to none with open-concept layouts and expansive windows and balconies. Your new unit can feature a generous living space, sleek kitchen and spa-inspired bedrooms and bathrooms. A finely-curated selection of high-end finishes and textiles means your living space will be customized to your own vision of chic, urban living.
7centraL Condos is in Vaughan Metropolitan Centre , the most connected place to call home in the entire city. Bolstered by the York-Spadina subway extension, which will terminate at the centre, the surrounding 400 acres has grown exponentially. It's now a major destination, housing dozens of eclectic shops, eateries and lifestyle amenities. Pedestrian boulevards, bike paths and landscaped courtyards encourage a friendly, vibrant atmosphere where it's possible to live, work, shop and play all at once.
Luxury office space has propelled the neighbourhood into an emerging business and commerce hub. For the first time, Vaughan has a distinctly urban vibe and 7centraL Condos is right in the middle of the action.
Easy access to convenient big box stores like IKEA, WalMart and the Home Depot make major shopping trips just a bit less painless, while Cineplex Cinemas and an array of entertainment options make it equally easy to kick back and relax.
Schedule a tour
Your information
Similar Listings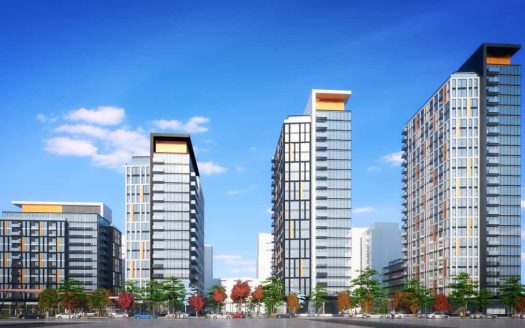 Pre construction
Coming Soon
Featured
Pre construction
Coming Soon
For Sale