Description
This highly anticipated second phase of an intricate condo project is bringing novel transformation to Vaughan.
Block Two at Abeja District is a new high-rise condominium development by Cortel Group in Vaughan. This pre-construction project is located at 2901 Rutherford Rd in Concord on the south side of Rutherford, just east of Jane Street.
This new development brings fantastic opportunities for investors with several high-rise condominiums rising to thirty storeys and an array of live-work options with leading amenities that can be used year-round. The condo buildings have geometric shapes when viewed from above, this development brings the appearance of a buzzing honeycomb in a beehive, thriving with life.
Residents will thrive and go beyond in this development that brims with the chance to build a high-quality life.
Expansive green space borders all towers, presenting an alluring exterior. Two future additional roads will accommodate a new flow of traffic in what will be a central cultural hub.
Block Two At Abeja District Condos open onto a communal courtyard with a children's playground, walking paths, stylish landscaping and towering trees. A spacious lobby greets visitors upon entering, complete with a lounge, mail room, and concierge services..
Residents can enjoy the benefits of an onsite fitness room with cutting-edge equipment and facilities. Getting active steps from home is now made affordable, convenient, and accessible.
A wellness spa is also onsite, presenting the potential for a sauna and hot tub. Sweating out toxins and daily stress can become a reviving routine. Completing this package is a yoga room with the space and equipment for residents to lead their own practice or organize weekly classes for groups.
This development also brings two additional unique offerings not often seen elsewhere.
Artist studios present the opportunity for creative entrepreneurs to practice their craft while building a business at home. These spaces combine a workspace with living quarters and can allow for unique tax breaks for residents who own. Painters, photographers, and other creative professionals will find these units present the potential for highly attractive lifestyle options.
In addition, a community centre provides an immediate forum for connection. It's all part of a distinctive environment fostering a feeling of unity and culture among neighbours. Additional amenities include workspaces for residents who are working remotely. A party room, lounge, onsite theatre room, and spacious outdoor terrace are also available. Meeting with family and friends in the context of your choice can be done outside your home at any time.
These condos are forging a unique future in the newly-forming landscape of Vaughan. While interest rates fluctuate up and down, investors who commit today are not obliged to pay a mortgage until the construction of their condo is complete. This is typically several years down the road within a brand-new economic context.
Remember, buying a pre-construction property differs from purchasing a resale home. You can read more about this difference in our blog and by checking out our comprehensive real estate information section.
You can potentially benefit enormously as a pre-construction condo investor with access to today's lower pricing and promising developer incentives. While you might hear otherwise via mainstream media, now is an optimal time to act.
Vaughan is a rapidly growing city with a bright future. Residents of Block Two At Abeja District Condos and investors seeking to live or own outside of Toronto's busy downtown core will find this a highly enticing location.
Commuters are just minutes away from the Vaughan Metropolitan Centre and TTC Station, bringing the GTA to residents' doorstep. Riders can reach Union Station in an hour and twenty minutes by subway. This same destination is just one hour away by GO train at Bradford Station. Highway 400 is also immediately accessible via Rutherford Road for travel.
Locals can benefit from being just around the corner from the new Cortellucci Vaughan Hospital. Residents can access state-of-the-art health services across 37,000 square feet of space, with help minutes away.
In addition, residents can find shopping from top brand names at Vaughan Mills. This is one of the GTA's leading destinations for fashion, dining and entertainment, just steps from home.
Schedule a tour
Your information
Similar Listings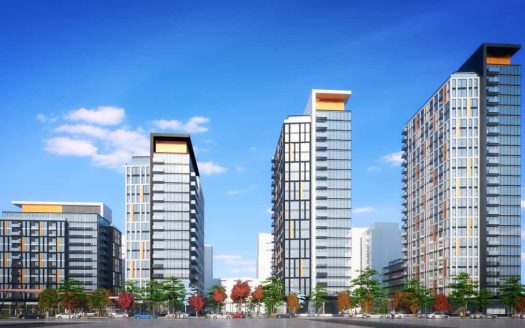 Pre construction
Coming Soon
Featured
Pre construction
Coming Soon
For Sale