Description
Modern heritage meets urban living at an exciting new west-end development delivered by one of Toronto's most-trusted names in luxury condominiums.
Edenbridge Kingsway condos is a mixed-use residential condominium mid-rise Tridel and First Capital in Etobicoke. This pre-construction project is located at 255 The Kingsway near the cross street of Lambeth Road in the Etobicoke neighbourhood of Edenbridge-Humber Valley.
This New Condo stands as a majestic addition to this highly-esteemed, venerable community. Rising 9 storeys above the area's tree-lined avenues with 183 condo suites and 24 townhomes, this luxury residence offers a unique combination of upscale facilities and unparalleled convenience to provide an ideal urban homeowner experience.
This condominium will help rejuvenate the surrounding neighbourhood with its ground-floor retail space,
From any perspective, this pre-construction mid-rise condo is a beauty to behold and a welcoming sight to see.
Featuring a multi-segmented brick-and-glass facade that follows the irregularly-shaped plot upon which it stands, this upmarket condominium features multiple stepbacks allowing for spacious terraces, eliciting elegance with its classic contours and clean corners. Not only that, this development will feature meticulously-manicured outdoor amenities that take the form of a British-inspired interior garden courtyard.
This luxury condo will certainly not fail to impress with its inspiring interiors and extravagant amenities. On the ground floor, you will find lounge area, dining room with outdoor terrace, bar/lounge, gym, yoga room, saunas, indoor pool & whirlpool, outdoor english garden, private residential terrace, boardroom and on the 8th floor you will find private bbq areas with dining and lounge, private lounge areas and private seating.
Edenbridge-Humber Valley is an affluent west-end Toronto neighbourhood that is largely defined by its stellar line-up of educational institutions and copious parkland and green space. Well-served by a multitude of nearby services and transportation options, this family-friendly community makes for an ideal location for people looking to put their roots down as well as downsizing retirees.
The foremost neighbourhood feature of this residence would undoubtedly be the shopping mall conveniently located directly across the street. The 30+ stores found in Humbertown Shopping Mall include a Loblaws grocery store, a pharmacy, a post office, and banks that allow local residents to complete daily errands without needing to travel elsewhere.
As a sign of this neighbourhood's affluence, a number of esteemed schools found in the area include Etobicoke Collegiate Institute, Lambton-Kingsway Junior Middle School, independent elementary school Kingsway College School, and Humber Valley Village Junior Middle School.
Other Features
24 Hour Concierge
Co-Working Space
Coffee Bar
Fitness Studio
Indoor Pool
Large Terrace
Party Room
Rooftop Terrace W/ BBQ
Sauna
Schedule a tour
Your information
Similar Listings
Pre construction
Coming Soon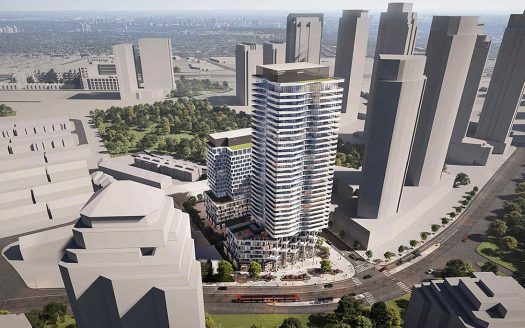 Pre construction
Coming Soon
Featured
Pre construction
Coming Soon
For Sale
Pre construction
Coming Soon