Description
An elegant boutique condominium in the heart of Toronto's west side, where eclectic shops and cafes line the streets.
Monza Condos is a boutique condominium development by The Benvenuto Group in Toronto. This new pre-construction condo is located at 863 St.Clair Avenue West between Bathurst and Oakwood in the Oakwood Village neighbourhood. This project has an occupancy date of 2022.
We're already predicting it will sell out in record time. A true boutique residence, it stands an understated 9 storeys and has only 80 suites, each of which has been meticulously crafted and designed. The ground floor will be home to 4,000 square feet of retail space which will cover the majority of the building's frontage– giving the area local amenities that mirror the warm and friendly energy of the neighbourhood.
Monza Condos will be designed by +VG Architects, exterior materials will include a main building envelope of brick embedded in precast concrete panels, white aluminum panel cladding, and perforated aluminum panels to create a crystal shape facade. Upscale midtown living is here. Each and every Monza suite is meticulously designed to offer great living spaces. Large balcony or terrace included with each residence. 1 & 2 bedroom suites, larger 3 bedroom suites and a limited collection of luxurious 2-storey penthouse suites all with spacious balconies or terraces with breathtaking view. Suites are ranging in size from 470 sqft to 1,599 sqft and include a mix of:
29 one bedrooms
5 one bedrooms plus dens
43 two bedrooms
2 two plus dens
Three bedroom units
Quality finishes curated by award-winning Patton Design Studio include wide plank flooring, quartz countertops, glass tile backsplash, custom cabinetry, energy star appliances, spa-inspired bathrooms and more.
The Monza condo building will be anchored by retail at grade which will spread across three retail spaces covering the majority of the street-level, while the residential entrance and lobby will occupy the remaining main frontage.
Parking for the building will be housed across three floors below-grade. This underground parking area will contain 70 parking spaces for residents and 5 for visitors while bicycle parking will offer 80 spaces.
With retail space and a crystal-shaped facade with warm brick and aluminum panels, the building beautifully compliments the surrounding neighbourhood.
This developer is known to include idyllic amenities as luxurious as its exterior designs. Residents here can look forward to a collection of indoor amenities that will cover 1,700 square feet of space on the ground and penthouse levels.
Monza Condo amenities are Designed by Studio AC and are concierge service 8 hours per day from Sunday to Friday & 16 hours on Saturdays, package room to easily retrieve your mail and deliveries in this dedicated space, private fitness studio with cardio and resistance training equipment, rooftop lounge with fireplace, large screen TV, catering kitchen and dining, outdoor rooftop terrace with city views, BBQ stations, dining and lounge areas and two high speed passenger elevators.
Host an exclusive, private dinner for friends. The exterior amenity space would be housed on the 9th floor and this space will be the perfect atmosphere to host your family and loved ones while enjoying the view.
This new mid-rise condo is putting family living at the forefront. It's a modern day community tailor-made for prevalent families who love their city but love their space as well. This development is perfect for one who enjoys a slower west end lifestyle but still considers themselves an urbanite.
Monza Condos truly is an urban oasis with beautiful views. The dynamic of neighbourhood boasts a plethora of amenities that all can enjoy. There are many independent and artisanal food shops, kid-friendly services, cafés, restaurants, professional services, schools, parks, playgrounds, nature trails, community centres and much more. Residents will never tire of exploring the community. Fortunately, the area has a Walker Score of 94/100 which means that residents can accomplish daily errands on foot.
Getting around the area is made easy with access to public transportation. Streetcars and buses will connect you to the subway line as well as the GO Station that in close proximity. The city is also working with Metrolinx and the TTC to create good transfer connections between TTC bus and streetcar routes and the upcoming St. Clair West SmartTrack station. The entire city seems just steps away. This new condo brings a modern way of life. Don't miss out on the opportunity to purchase or invest in this magnificent residence.
Other Features
24 Hour Concierge
Bike Storage
Co-Working Space
Coffee Bar
Conference Room
Fitness Studio
Rooftop Terrace W/ BBQ
Sauna
Schedule a tour
Your information
Similar Listings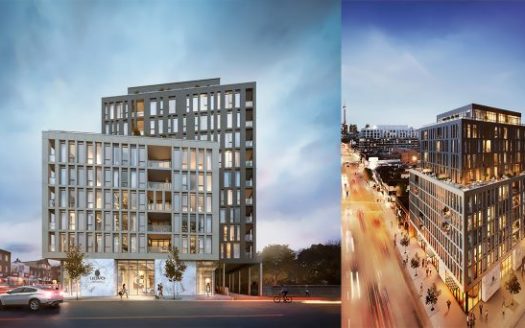 Exclusive Listings
Coming Soon
Pre construction
Coming Soon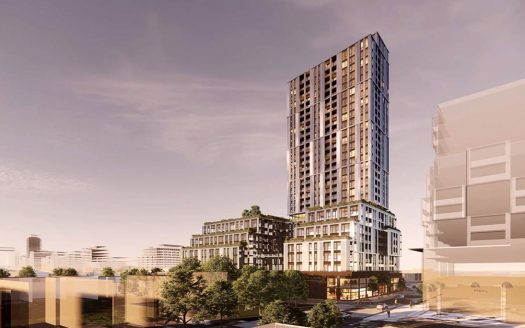 Pre construction
Coming Soon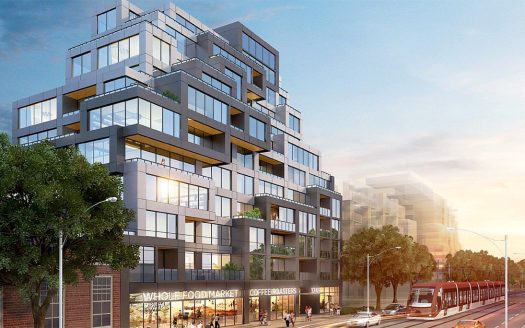 Pre construction
Coming Soon