Description
These new condos will become some of the most sought after homes in the GTA due to their location in the city, as well as the reputation of their builder.
Queen Church Condos is a new high-rise condominium by Tridel and Bazis Inc in Toronto. This 57 storey pre-construction project with 445 luxury units is located at 60 Queen Street East in the Garden District neighbourhood.
This condo building will have verity of units, from studios to three-bedroom suites. It's only steps away from the best shopping, dining, and entertainment in the whole city.
Amenities
Entering the stunning lobby of Queen Church Condos, residents will fall in love with the artistic vision presented through the modern designs, furnishings and eye-catching artwork.
The amenities found at Queen Church are enough to have you living the luxuriously and convenient life you always wanted.
Spread across 16,000 square feet, you will find amenities throughout the building, starting on the ground floor. Stepping into the modern high-ceiling lobby, you will be greeted by 24-hour concierge service, a welcoming lounge space where you can wait for your ride or catch up on your messages before heading to your suite.
Floors four to five will have expansive spaces dedicated to indoor and outdoor amenities for all ages. The fourth floor will contain a top-tier fitness centre for a heavy workout, which a tranquil yoga stretch can follow up in the yoga studio. You can also step out onto the fourth-floor terrace, which offers an outdoor yoga deck and an indoor and outdoor kid's play zone. Everyone will reap the benefits of this level.
The fifth floor will contain everything you can expect from a modern luxury downtown condo; after all, here is where you'll find top talents in tech and social media. Catering to creative and work-from-home employees, you can find an indoor and outdoor work lounge and a digital studio with the latest technology. Additionally, the innovative meeting room sits adjacent to an outdoor meeting area where you can get a breath of fresh air and fresh ideas.
Every suite at Queen Church is thoughtfully curated to optimize natural light and efficiently maximize space. The open-concept rooms combined with contemporary features, finishes and appliances make for the perfect downtown lifestyle.
Not to mention, each suite will be easily controlled from your phone or in-suite wall pad – where you can see who's at your door, the temperature of your suite, call the front desk and get building updates. Other building features include Licence Plate ID for secure access to the parking, lightning-fast internet and parcel delivery lockers.
Queen Church Condos is at the apex of three of the most iconic urban neighbourhoods in the city, being only steps away from the Garden District, Financial District, and St Lawrence.
This tower will rise out of the the northeast corner of Church and Queen. This puts it in the midst of shopping, dining, entertainment, and public transit.
It has a dedicated streetcar line that careens down Queen Street, and it's one of the longest routes in Downtown Toronto. It goes from the beginning of Queen in the West at King Street West and Roncesvalles Avenue all the way to the eastern reaches of The Beaches in the east, at Neville Park Loop. This creates a direct passageway that can take you across downtown. The 501 also connects to two subway stations, both of which are part of Yonge-University Line 1 .
Queen Station is, unsurprisingly, the first subway station you encounter when traveling westward from this address. This is the station many people use to reach the Toronto Eaton Centre, which is a primary shopping centre in the city. This massive mall has 235 stores and services, and it encompasses over 2 million square feet of retail space. It has transcended simply being a shopping centre, and today is also a popular tourist attraction.
Other Features
24 Hour Concierge
Co-Working Space
Coffee Bar
Conference Room
Fitness Studio
Gym
Kids Playroom
Party Room
Pet Spa
Yoga Studio
Schedule a tour
Your information
Similar Listings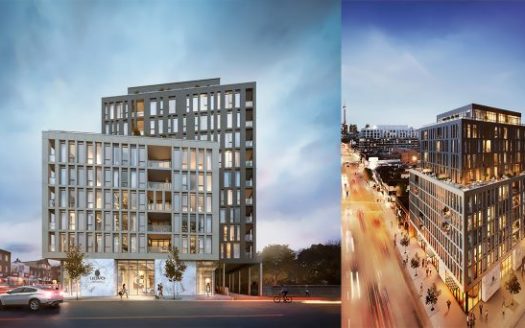 Exclusive Listings
Coming Soon
Pre construction
Coming Soon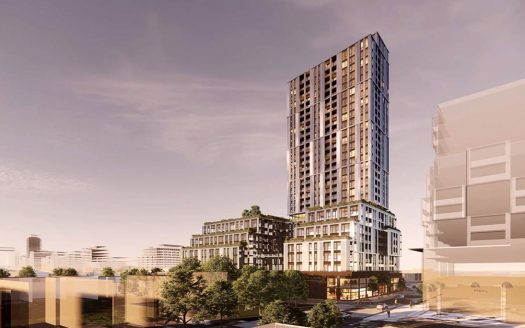 Pre construction
Coming Soon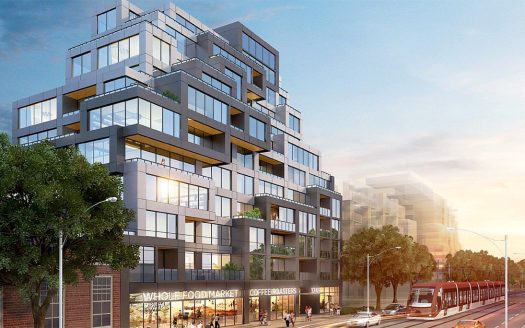 Pre construction
Coming Soon