Description
A new boutique-style condo will redevelop the site's current Sobey's grocery store and will add a range of housing styles to this welcoming stretch.
The Dupont Condos is a new 9-Storey mixed-use condominium development by Tridel in Toronto.
This pre-construction project is located at 840 Dupont St, at the northwest corner of Dupont and Ossington Ave in the Christie Pits neighbourhood of Toronto.
It's a fantastic opportunity to invest where several sites are slated to become contemporary boutique condominiums.
The Dupont Condos sits on a 2.8-acre site, overlooking the bustling main stretch to the south and the Garrison Creek Park to the north.
The project calls for an expansive two-storey podium, housing 88,000 square feet of retail on the ground floor and  over 28,000 square feet of office space on the second floor. Much of the retail space will be dedicated to a grocery store, namely the revitalized Sobey's, which currently occupies the site.
This development with 349 residential units will come with spacious one to three bedrooms that will range from 552 to 1,288 square-feet. Some of the suites will also come with large balconies or terraces.
The interiors of the suites will feature sleek cabinetry and modern finishes including sliding frameless doors on all closets, premium plank laminate boards on floors and white tiles in bathrooms, laundry, and storage rooms.
The kitchens will be open-concept and will come with granite or engineered quartz countertops, a stainless steel sink and matching slab backsplash. This development will also come with modern amenities including a fitness centre, yoga studio, sauna, steam room, washrooms/change rooms, day lockers, party room, dining room/social lounge, multi-function room, games room, kids room, a large outdoor terrace with private fireside lounge areas, poolside lounge, rooftop pool and outdoor barbecue and kitchen.
Residents will have access to 363 parking spaces in an underground garage, while the site will also house at-grade parking for office and retail use. Two separate lobbies – one for residential and one for office use – will front directly onto Dupont.
Featuring an exterior palette of white and black, with a modern stacked form, this will be a tastefully designed condominium that will add to the area's urbanization. While details about amenities are still being decided, the building is designed to feature expansive rooftop space on the podium, which seems like it would make a spectacular outdoor terrace.
Sophisticated and contemporary, this new condominium will appeal to a range of residents.
The Dupont Condos is licated at a busy industrial hub fwith a combination of shops, cafes, single-family homes and low-rise apartments, as well as the quintessential warehouse buildings that still occupy much of the area.
Recently, a series of developers have set their sites on the neighbourhood, realizing its proximity to transit and popular neighbourhoods like Yorkville and The Annex. Almost a dozen new condominiums are either proposed or under construction in the immediate area, many of them mid-rise boutique projects like this one.
Just a five-minute bus ride to Dupont subway station, this west-end neighbourhood is also a short stroll to the Annex and the glittering retail and cultural hotspot of Yorkville. It's as popular with families and mature couples as it is with creative professionals and students at the nearby George Brown College.
Grab a coffee at one of the neighbourhood's many espresso bars and take a stroll past some of the leafy side-streets and you'll understand why this stretch has so much to offer!
Other Features
24 Hour Concierge
Co-Working Space
Coffee Bar
Conference Room
Family Room
Fitness Studio
Guest Suites
Gym
Indoor Pool
Kids Playroom
Large Terrace
Party Room
Rooftop Terrace W/ BBQ
Sauna
Social Club
Swimming Pool
Yoga Studio
Schedule a tour
Your information
Similar Listings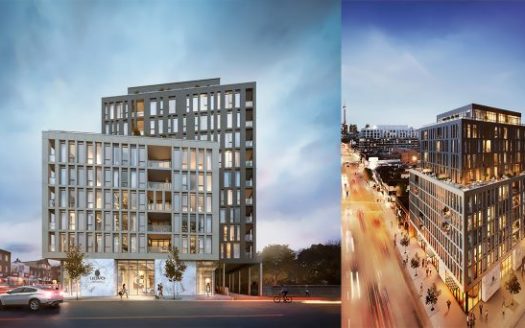 Exclusive Listings
Coming Soon
Pre construction
Coming Soon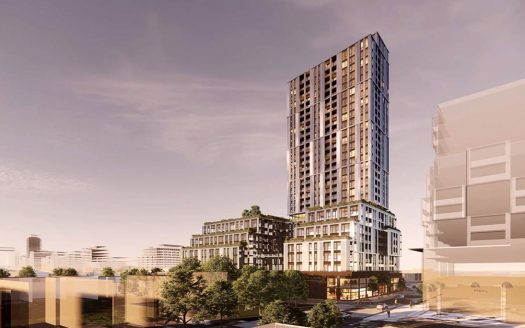 Pre construction
Coming Soon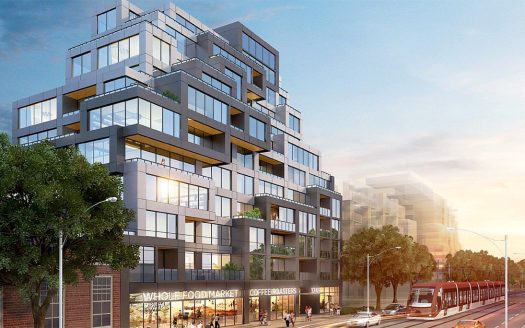 Pre construction
Coming Soon