Description
Verge Condos is a brand new mixed use community coming to Toronto's quickly growing and popular Queensway neighbourhood. Verge will ultimately bring four new condo towers and almost 600 new residential units to the area once completed. Verge Condos will see the creation of new green space and over 31,000 sqft of ground level retail space.
Verge Condos boasts an amazing Walk Score with a wide assortment of local and brand name lifestyle amenities all located within walking distance. Verge Condos will back onto Cineplex's flagship cinema and many restaurant and shopping options. The Queensway is a popular and well known street that offers boutique shops, local eateries and cafes, and independent vendors that residents of Verge Condos can enjoy. Residents of Verge Condos are also just a short commute from Sherway Gardens, one of the city's major shopping centres.
Commuting is a breeze when living at Verge Condos, TTC bus routes are accessible to residents right outside the front door. TTC streetcar routes and subway lines are accessible not far from home. The Mimico GO Station is also conveniently located just minutes away. Downtown Toronto is less then 45 minutes away when travelling by transit. Verge Condos is conveniently situated just minutes away from some of the city's busiest major thoroughfares including the Gardiner Expressway and Highway 427, driving into the downtown core will take less than 15 minutes.
Verge Condos is just minutes away from Lake Ontario, beautiful beaches, lush parks, and peaceful waterfront trails. This beautiful area of the city is home to Humber Bay Park, Mimico Waterfront Park, and Colonel Samuel Smith Park.
Etobicoke is an extremely family friendly community, it is home to some of the city's most prestigious private schools and top ranking public schools. Humber College Lakeshore Campus and Toronto Police College are also located close to Verge Condos, making it a great choice for post secondary students. The area is also home to community centres and recreational facilities which offer a wide range of sports and activities for children of all ages, making it a great place to raise a family.
Verge Condos is being developed by RioCan, Canada's largest real estate investment trust.
This new condo development is located on one of the most important corridors in Etobicoke, this project aims to densify the neighbourhood while also improving its life quality.
Verge Condos is a new master-planned community by RioCan Living and it will be in Etobicoke. This pre-construction development is located at 1001 The Queensway in the Queensway neighbourhood.
Located on one of the most important corridors in Etobicoke, this project aims to densify the neighbourhood while also improving its life quality. This stretch of the Queensway is a major commercial sector, so residents will have everything they need at their fingertips.
Verge Condos offers a wide range of units, so we're sure we can find you a perfect fit no matter what you're looking for. Multiple employment centres are easily reached from this location too, so this could be a great fit for investors who are looking for income properties!
The entire development will encompass five residential towers that will rise out of two 4 storey podiums. There will also be an 11 metre driveway located in between the two podiums.
Building 1 will be on the western side of the driveway in the northwest section of the site. Two 8 storey and 10 storey towers -Towers A and B – will rise out of the 4 storey podium. Building 2 will have three towers rising out of them, one 10 storeys tall, one 11 storeys tall and another 17 storeys tall – these will be Towers C and D.
All together, this master-planned community will have a total of 545 units on a 3.25 acre site. The first set of towers on the west side of the complex will come with one to three bedroom layouts with sizes ranging from 478 to 879 square-feet.  Each suite will also come with its own private balcony or terrace which extend the square-footage of the suites.
The Verge community will have over 12,000 square-feet of indoor amenities, over 12,500 square-feet of outdoor amenities and over 30,000 square-feet of expertly curated retail. The west tower will be introduced to the community first and will come with unique amenities including a modern double height lobby with concierge service connected to a co-working space on the ground floor, a pet/bike wash station, a content studio – the first of its kind – where residents can use it as a music studio to create their own content, a fully equipped fitness centre with a yoga studio. On the ninth floor the amenities will continue including a party room and cocktail lounge, a large outdoor terrace with dining and lounging areas, a kids play area and a shuffleboard area. The Verge West Tower will also include 1Valet integrated smart living throughout, Italian kitchens and vanities and 9 ft smoothing ceilings in the suites.
Verge Condo site will take over a property that is currently occupied by three restaurants. To the north there are two connected 9 storey residential buildings with ground level commercial retail units. To the east is Islington Avenue, across from which are residential townhouses. To the south is The Queensway Cineplex Theatre. To the west is Dorchester Avenue and low-rise commercial buildings.
There will be ample parking space in this development. It will have a total of 591 parking spots, 475 of which will be allocated to the residents of the development, while the remaining 119 will be for visitors and commercial use. There will also be 442 residential bicycle parking spots.
The plans call for 14,454 square feet of "programmable green space." This means that while this plot of land will be allocated for green space, the actual design and amenities have not yet been determined.  It will be conveyed by the City of Toronto, and it will help the city reach its parkland goals.
Verge Condos will have amenities situated on each one of its fifth floors, and they will be accessible by all the members of the community. There will also be an outdoor terrace on the second, third, sixth, and ninth floors of Buildings 1 and 2.
This part of The Queensway is filled with multiple shopping and dining choices. Regular errands can be accomplished at the nearby grocery stores, so you can either pick up a few odds and ends at the Sobey's to the west, or do a bigger load at the Costco to the east. There are also numerous restaurants in the neighbourhood, which run the gamut from pizza delivery and fast food, to Irish pubs and sushi.
Schedule a tour
Your information
Similar Listings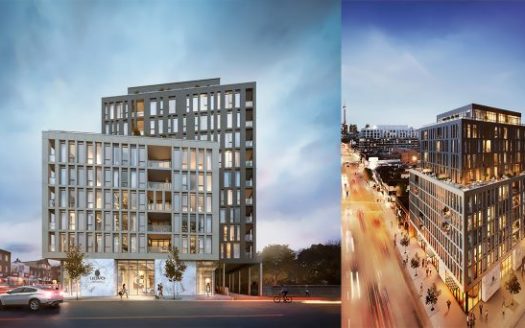 Exclusive Listings
Coming Soon
Pre construction
Coming Soon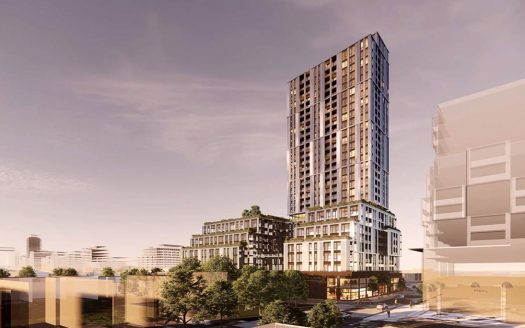 Pre construction
Coming Soon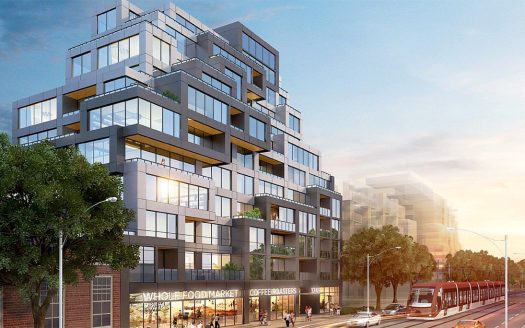 Pre construction
Coming Soon