Description
This new boutique-style condo is joining the list of developments proposed on The Queensway by Format Group.
Vicinity Condos is a new mixed-use boutique condominium development in Etobicoke. This pre-construction project is located at 875 The Queensway, near The Queensway and Islington Avenue in the prolific region of Etobicoke.
The building will be a 14-storey building inclusive of 183 residential units and retail space at grade level. Excellent transit and adjacency to the downtown core makes for a convenient and desirable condo locale.
Vicinity Condos will be 14 storeys high amassing 149,865 square feet in total gross floor area and feature and 185 m² of retail space at grade.
A spacious underground parking garage has also been proposed for the residents and visitors of this condo. The parking garage will hold 159 parking spaces and 138 bicycle parking spaces can be found throughout the levels.
The contemporary condominium will house a mix of unit layouts including 131 one-bedrooms, 41 two-bedrooms, and 10 three-bedroom units. The mid-rise will also hold an eight-storey podium that houses a 1,919-square-foot ground floor retail space located on The Queensway. The main floors will also house 3,939 square feet of indoor amenity space that includes a lobby and concierge, mailroom and lockers for its residents.
It will also include many setbacks, exposing multiple terraces on The Queensway frontage and outdoor amenity space for its residents. This will allow enhancements for the public realm as the condo can be easily integrated into the pedestrian walkways. Inset balconies have been proposed for suites on the second and third floors, and projecting balconies will be available for units on the building's east and west facades.
A total of 2,335-square-foot outdoor amenity space will be located at grade featuring a proposed lounge area with outdoor dining, lounge seating, and a BBQ for residents to utilize. The fifth level will also hold an outdoor terrace as the building will setback on the 6th floor. An additional 1,732 square feet of outdoor amenity is proposed on the roof of the building where we can expect another lounge area for residents to enjoy the scenic views of the city.
This condo will be the perfect addition to the growing community. With pedestrian friendly walkways, and an easily accessible location it is drawing the attention of savvy investors.
Vicinity Condos is centrally located in the desirable region of Etobicoke. This area is dense in population, employment and continues attracting more residents for its close proximity to downtown. The area is also rich with retailers, restaurants, entertainment and so much to do and see.
This condo location scores an excellent 79 out of 100 as many everyday errands can be completed by foot. Major retailers such as Costco, IKEA, Lowe's, Canadian Tire, Best Buy, Home Depot and Wal-Mart can all be found in walking distance. Additionally, No Frills, Sobeys and numerous independent grocers can be found nearby allowing residents to easily complete their grocery runs. Residents will also be lucky enough to find Sherway Gardens located just 5 minutes away by car. Here shoppers can access big-box stores and widely recognized restaurants.
Not only is this location excellent for young professionals, it is also a very family-friendly neighborhood with many parks and schools in the area. Parks include the 500-acre Centennial Park, Islington Golf Club and the series of trails surrounding Etobicoke Creek, The Queensway Park, Ourland Park, and The Twin Parks just to name a few.
Schedule a tour
Your information
Similar Listings
Pre construction
Coming Soon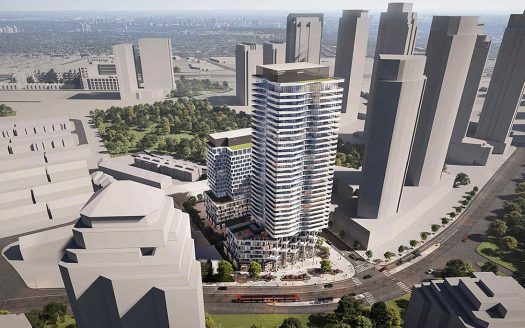 Pre construction
Coming Soon
Exclusive Listings
Coming Soon
Pre construction
Coming Soon